1. Enter a valid e-mail address and password (at least 5 characters long). Confirm your password by typing it again and then click the Register button.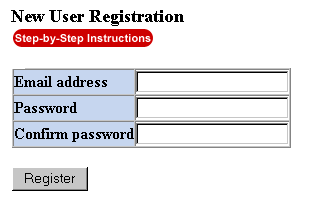 2. You will then see a Thank You page and a Confirmation Message will be sent to the e-mail address you specified.
3. Go to your e-mail account and open the Confirmation Message. Click on the unique link embedded in the e-mail message OR copy and paste it into your browser. A sample confirmation message is shown below:
Thank you for registering to use The Quinn Solution™. To complete your registration, please click on the following link or copy and paste it into your browser: https://www.quinnpatent.com/Confirm?code=fhv7asf1z1
4. You will see a Welcome screen that asks you to formally login and complete your "My Profile" information. Click on the red Click Here button to proceed.
You will then see the login screen shown below. Enter your e-mail address and password and then click on the Login button. Both e-mail address and password are case sensitive. You can choose to remember your password each time you login by checking the designated box (requires cookies and Javascript).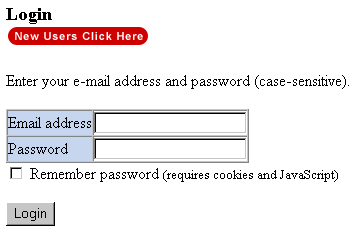 5. Complete the My Profile information screen and click the Save button when you are finished. Note that you will be asked to specify your default preferences for orders at this time. But when you submit individual orders, you can always override these defaults if needed. The default preferences are defined below:
Estimate needed? Check this box if you want an estimate before work is begun on your order.
Conference needed? Check this box if you want Quinn to contact you and schedule an online meeting with a draftsperson to discuss the drawings.
Final delivery method? In addition to being posted to the Web for viewing and downloading, please indicate if you would like a confirmation copy and how you would like that delivered (i.e., U.S. mail or FedEx).
After completing the My Profile screen, you will be ready to submit your first order! Below we show you what the My Profile screen looks like.